5 Ways to Make a Man Think about You
The art of seduction can be really helpful if you want some guy think about you. However, there is a very thin line you shouldn't cross if you don't want to get an opposite reaction. Here we want to share 5 ways you can try to make the guy yours at least in his thoughts.
Keep an eye contact
Human is a creature, who can say a lot even without opening the mouth. The eyes can speak instead. Meeting the man, look straight into his eyes. Or if you catch his eye in a distance just send him a wink.
Your confidence will definitely draw his attention, and he will think of what you wanted to tell with your wink.
Flirt
For some people flirting comes absolutely naturally. Yet some girls don't feel confident enough to flirt. Anyway, if you want to stay in the thoughts of the guy you like, flirt with him. Be playful and open. Let the guy see what kind of a person you really are.
But again, you shouldn't be intrusive as the pressure can only push him away. So, don't overdo on flirting!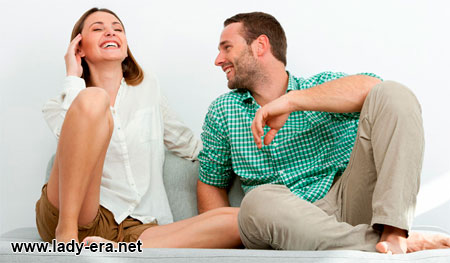 Stay close but far
Every man has an instinct of a hunter inside. That's why it is important to let the guy seek your attention too. Throwing a bait, you have to wait until your "fish" swallows it. Let him think that it is you who are not really interested in relations. At the same time stay kind and friendly with him so that he kept thinking about you.
But be attentive not to miss the right moment for a response. Making him seek your attention too hard or too long can result in losing his interest.
Let him have his own space
Don't be too intrusive. Men need their personal space, like going out with friends to watch a football match. You don't need to stay beside him all the time. You know, people get irritated when there's "too much of someone" around them.
Instead, spend time with your friends. Staying in a distance, you'll definitely make him think about you.
Be yourself
When people love someone or are attracted, they don't pay attention to the drawbacks, yet they do feel when you are playing. By staying natural and, first of all, yourself, you can be much more interesting to the guy than when you try to be someone you not really are.
Show your inner world, tell him about your interests and hobbies. Finding some commonness between you can definitely help your future relations. So don't be afraid to be sincere with the man you like, of course, if he deserves it.