How To Regrow Eyebrows
How to regrow eyebrows? Full and thick eyebrows have been fashionable for several seasons already. If you have thinned them too much over the years, there is only one way to regrow them: don't touch them for at least a couple of months.
Like hairstyles, eyebrows also follow fashions. Many of us still carry the 'signs' of the 1990s, years in which thinned eyebrows were in fashion. Today, however, thin eyebrows are a 'no-no'. They must be wide and full. If you want to (try to) go back to your thick eyebrows of the past, there is only one remedy, which is very strict: don't pluck them for at least a couple of months!
Only when you have given the possibility to every potential hair to grow back (we admit it, it is not fun to go around with unplucked eyebrows, but you will not regret it, believe it!), you can pull out the tweezers to 'redraw' the eyebrows, this time following the latest fashion. In order not to fall into the same 'trap' (we all have a tendency to repeat ourselves), it is better to turn to an expert who will help you change the 'look' of your eyebrows and adapt them to the latest trend.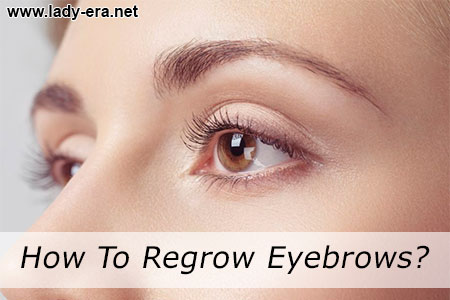 How to make your eyebrows grow again if your eyebrows don't grow back the way you want: you can make compresses (before bed) with olive oil or coconut oil. You can also take supplements based on biotin (available in pharmacies – it's also good for your hair and nails). And if the hair is no longer visible, then there are extensions to thicken the eyebrows and recreate the desired arch. It is not a definitive solution and requires some maintenance (and financial commitment), but we do report it anyway.
Microblading is a conscious choice of those who are not satisfied with their eyebrows and are looking for a more or less permanent solution to fix them. Microblading is a technique that is also used for those who, due to medical therapies, have no eyebrows or in cases of alopecia. This is a technique that comes close to tattooing but does not include the use of machines. It is performed freehand with a brush and with razor blades. The pen is dipped in the pigment and then a skin-shaped incision is made in the skin. It is a precision work that allows you to draw eyebrows, hair by hair.
Microblading gives a very natural effect. Unlike machine tattooing, it lasts less (which can be an advantage given that over time not only our face changes but also our trends and our aesthetic taste). The effect wears off very naturally. To maintain it, a touch-up every 6/12 months is enough (the frequency of retouching depends very much on the type of skin).
The semi-permanent reconstruction of the eyebrows with dye, in particular with henna, is one of the most requested treatments in many fashionable eyebrow bars. It allows you to correct the shape of the eyebrows and has a duration of a few weeks. It is therefore ideal for those who do not like having to fix their eyebrows every day but still want to see them perfectly in order.
The henna treatment allows a rather simple reconstruction of the eyebrows because it does not only cover the hairs but also a bit of skin. It is therefore very suitable for filling a few gaps or for those with sparse hairs. The henna coloring also allows to reconstruct a missing corner or a not well defined tail.