Can you fall in love at 45?
The number of divorced men and women who are approaching their 50-s is impressive. According to different statistics, 50% of Americans have gone through the divorce. By the way, the rate of breakups is the lowest in the first-time-married people (41-50%). The second marriage ends up with a divorce in 60 – 67% of cases, whereas the third try is successful only in 26-27% of cases.
Rather sad, isn't it? Looking at such figures it is very difficult to believe that you can happily fall in love with a man or woman after you've crossed the border of 45 years old. However, numerous positive examples show that there is nothing impossible.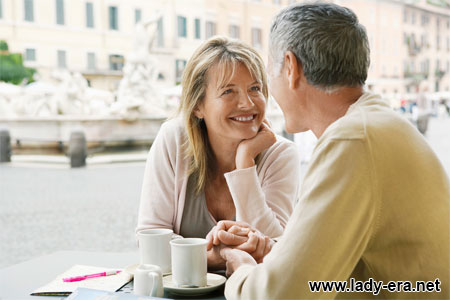 Why do you need love at 45?
People at any age have certain criteria why they want to love and be loved. When you are 20, you are looking for some new experiences or share interests with your partner. Reaching the age of 30, you think about kids, a loving husband or wife, a beautiful house with a white fence, and of course about the career. At 45, you can already have kids, house and the job of your dream, but you may lack a person who can give you the warmth, support, and love.
Even though it may sound weird, those, who are already far from young also want someone to love and care, and wait for them at home. At this age, people are not looking for a lover (though it's also important) but, first of all, they want to find a partner and friend. Love at 45 can be as easy and light as at 18 and bring the same good and positive emotions. Yet it is still different.
What's the difference
Being an adult man or woman with your own established principles and habits, you are not ready to yield them. You are no longer ready to change your life on someone's whim and give up everything you've gained for a person you hardly know. It may be difficult for you to get used to another pair of legs in your bed or to one more cup of coffee you make in the morning. However, all this "awkwardness" may be absolutely meaningless, if you feel that it's your person.
Taking it into account, you look for someone who has a lot in common with you. You look for an interesting interlocutor, a friend, a soulmate eventually.
Falling in love at 45 may be difficult, but believe it or not, it's the right time to find a man or a woman you would really like to spend the rest of your life with. So, never stop hoping and looking for love, even if you are 45. Who knows, maybe your destiny is waiting for you around the corner…